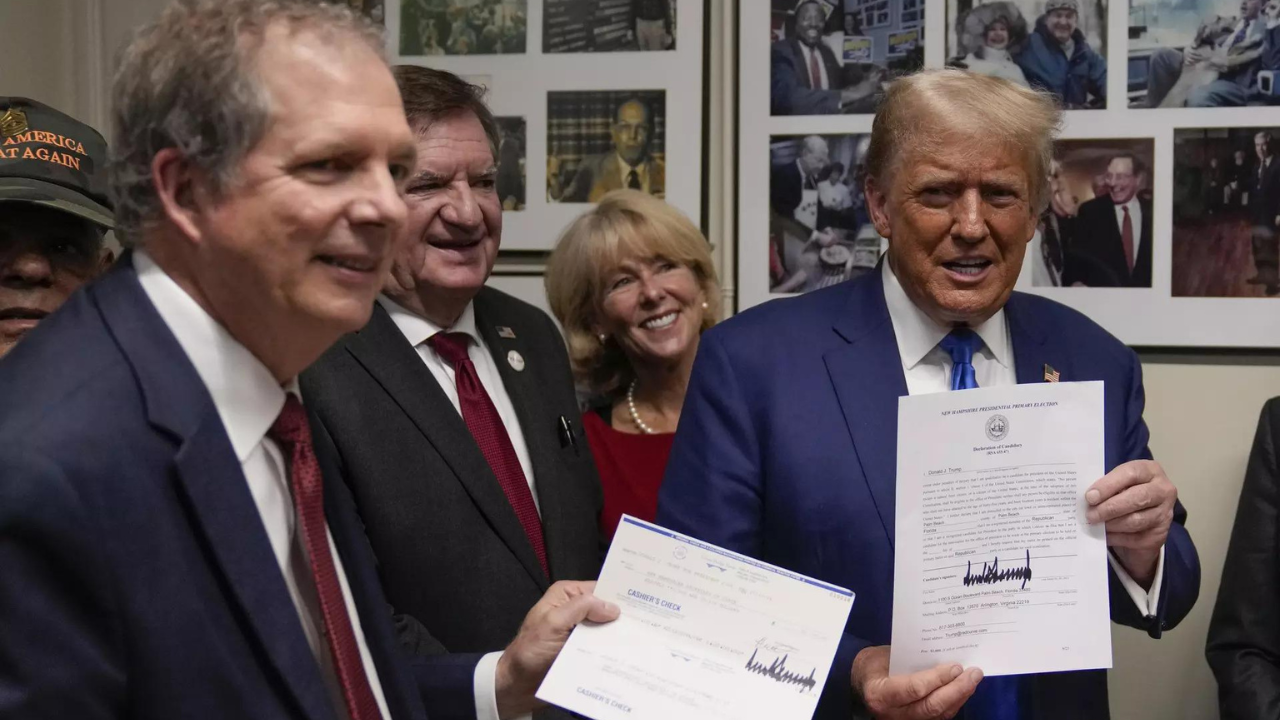 CONCORD, NH: Former president
Donald Trump
compared himself to anti-apartheid activist Nelson Mandela on Monday as he cast himself as the victim of federal and state prosecutors he alleges are targeting him and his businesses for political reasons.
Returning to New Hampshire to register for its presidential primary, Trump held a rally where he railed against president
Joe Biden
's response to the Hamas attack on Israel and vowed to build an Iron Dome-style missile defense shield over the US.
But he focused much of his dark and at times profane speech on the criminal and civil cases against him, at one point suggesting he would go to prison like the former South African president who spent 27 years in prison for opposing South Africa's apartheid system and was awarded a Nobel peace prize.
"I don't mind being Nelson Mandela because I'm doing it for a reason," Trump told am amped-up crowd of supporters at a sports complex in Derry, New Hampshire. "We've got to save our country from these fascists, these lunatics that we're dealing with. They're horrible people and they're destroying our country."
Trump is facing four criminal indictments as well as civil trials that span allegations that he inflated his worth, misclassified hush money payments to women during his 2016 campaign, illegally tried to overturn his 2020 election loss and hoarded classified documents at his Mar-a-Lago club.
The comments came after Trump formally filed for the first-in-the-nation primary, becoming the first person who has served as president to do so in person more than once.
"Vote for Trump and solve your problems," he wrote on the commemorative poster at the statehouse in Concord that all the candidates are asked to sign.
Candidates this year have until October 27 to officially sign up, and dozens are expected to do so. The process is easy: They only need to meet the basic requirements to be president, fill out a one-page form and pay a $1,000 filing fee. In 2020, 33 Democrats and 17 Republicans signed up. The all-time high was 1992, when 61 people got on the ballot.
Trump won both the 2016 and 2020 Republican primaries in New Hampshire but lost the state in both general elections.
After signing up for the 2016 contest on the first day of the filing period eight years ago, Trump sent then-vice president Mike Pence to file his paperwork for the 2020 contest. That was in keeping with a tradition of other incumbents who also sent surrogates, but his return on Monday was something new.
Also new was the security surrounding his visit. Only supporters selected by the campaign were allowed to line the hallway to the secretary of state's office at the Statehouse, and access to the building was restricted.
In 2015, he used the experience in part to boast about his personal wealth.
"They wanted a cashier's check," Trump said. "So this is from a bank that's not actually as rich as we are."
On Monday, he touted his wide lead in current New Hampshire polls and noted that support for Florida governor Ron DeSantis has dropped significantly.
"Bad things are happening, but we keep going up," he said.
Later, at his rally, continued to criticize Biden's response to the Hamas attack on Israel, calling the speech the president gave in response to the war last Thursday night "a grotesque betrayal of Israel" and "one of the most dangerous and deluded speeches ever delivered from the Oval Office."
He charged that Biden, in linking the threats posed by Hamas and Russia, "went before the American people and said that if you want to support Israel, then you have to give a blank check" to help Ukraine stave off Russia's ongoing invasion.
To protect the country, Trump said that, if he returns to the White House, he will order the construction of a state-of-the-art missile defense shield over the US that he said would be "capable of blasting Chinese, Russian, and Iranian missiles out of our skies."
"Americans deserve an iron dome, and that's what we're going to have," he said, referring to Israel's vaunted defense system, which has intercepted thousands of missiles in the days since the attack.
In the weeks since, Trump has been leaning into the anti-immigration rhetoric that fueled his 2016 campaign, calling for an expanded Muslim travel ban and new ideological tests for immigrants. He has also warned that those who want to do harm to the US may be infiltrating the country's southern border along with South American migrants.
He read the lyrics of "The Snake," a dark song that he's used since his first campaign as an allegory of what he says are the dangers of illegal immigration, and claimed Biden would turn the country "into a hotbed for jihadists and make our cities into dumping grounds resembling the Gaza Strip."
At a news conference Monday, New Hampshire Democrats criticized Trump and predicted state voters would reject him if he becomes the GOP nominee.
"At a time when our country confronts significant problems at home and around the world, and when our global leadership is as indispensable as ever, we need to be united. But Trump is incapable of bringing us together," said US Senator Maggie Hassan, a Democrat. "We are the Live Free or Die State: We have no use for a man who would overturn our elections or praise dictators. I know that as Granite Staters and Americans, we will reject Trump and we will win next November."